Your gift is only a few steps away...
Do you know someone who needs a contractor? Please provide your information as well as the contact information for the property owner and DWC will contact them to schedule an appointment. All rewards will be mailed directly to you upon completion and final payment for work performed. On behalf of everyone at DWC, we thank you for your continued support in helping us grow our business.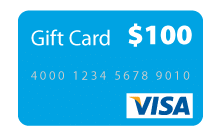 As an added Bonus, each month DWC will draw a winner of a $100 Pre-Paid VISA Card. You are automatically entered into the drawing for each referral you provide. Follow us on Facebook and stay up to date with winner announcements and other DWC Promotions.